Find an Asthma Specialist
Finding the right specialist can help you start your asthma management journey. You can use this tool to find one nearby.
Types of Asthma Specialists
Allergist and Immunologist
Allergists and immunologists specialize in the diagnosis and treatment of allergies, asthma and other diseases of the immune system. Allergists receive specialized training in allergy and immunology, including training to identify allergy and asthma triggers.
Pulmonologist
Pulmonologists specialize in the respiratory system—from the windpipes to the lungs. Pulmonologists receive specialized training in pulmonary medicine, often involving critical care and sleep medicine. A pulmonologist can work with patients facing serious or chronic breathing problems.
Find an Asthma Specialist Near You
The information provided is for informational purposes only and is not meant to replace your doctor's medical advice or information from your plan about preferred doctors.
You may search by ZIP code. Any information you provide is used solely to help you find a physician. It will not be disclosed to third parties. Please note: This list is pulled from a publicly available nationwide database of doctors who have indicated their specialty. While it is updated regularly, this list may not have the latest provider information and results shown may not reflect all of the asthma specialists in your area.
Inclusion of a physician is not and does not imply a referral, an endorsement, or a recommendation by GSK. Doctors included in this list have not endorsed GSK or any of its products. Participation by physicians in payer networks may vary. You should verify a physician's participation/acceptance of your health insurance. Users of this website are solely responsible for communications and interactions with any of the listed physicians, and any information users send them is not governed by our Legal Notice and Privacy Policy. Users are responsible for compliance with state and federal laws regulating physician referrals, such as anti-kickback laws, the Stark Law, or state professional practice restrictions.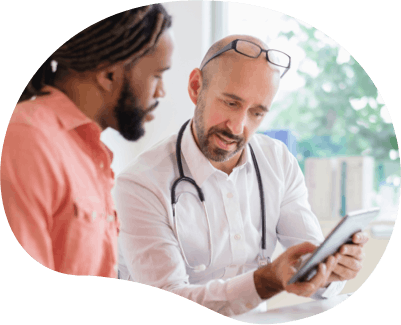 Discuss Your Treatment Options With Your Doctor
With the help of this Doctor Discussion Guide and Asthma Journal, you and your doctor together can create a plan to help manage your symptoms.
Know the Warning Signs
Recognizing the signs and symptoms that can indicate an impending asthma attack is important for you and your loved ones.